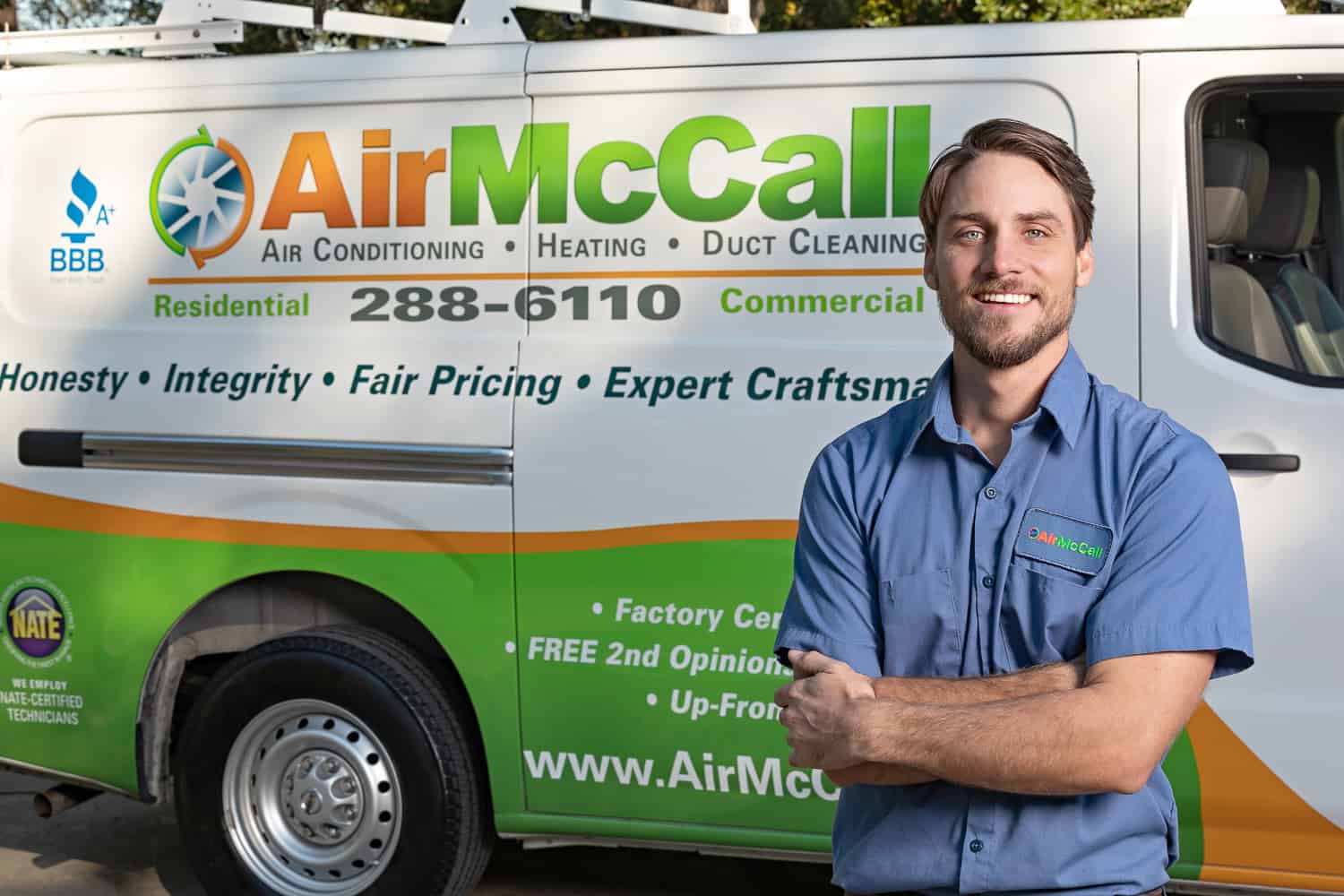 An HVAC unit is a somewhat complex mechanical system. When something goes wrong, it's best to leave the inspections and eventual repairs to professionals. For all of your HVAC needs, you need to find a top-tier contractor in Jacksonville, FL.
Consumers need one that guarantees results and extends the lifespan and durability of your system. If you're confused about choosing the best contractor for your HVAC needs, there are the four important qualities a top-level HVAC contractor should always possess.
Licenses and Certifications
Licenses and certifications will guarantee that an HVAC contractor's technicians can successfully perform all services they provide. Why trust a contractor that has no idea what they're doing or just performing guesswork? Air McCall has met all requirements in this area.
Anyone can verify contractor accreditations in Florida by searching on: www.myfloridalicense.com.  Don't just take a contractor's word that they are legally able to perform the work you need. Check it out yourself.
Customers might find rates well below the average by going with an unlicensed contractor, but in the long run you will find that you compromise quality when you do so. And, they might not be around to honor any warranties they promised.
Highly Reputable with Great Reviews
Professional  HVAC contractors in Jacksonville, FL should always provide you with good quality results. However, sometimes the fact that the job was performed well isn't necessarily going to yield a great online review.  You may find that people give reviews also based on the personality of the technician, and if they cleaned up after themselves when they left.
It's important to check out the reviews of any contractor that you decide to hire.  You can also look at the Better Business Bureau, Home Advisor and Angie's List for more information. If you hire a contractor with great reviews, it's doubtful that you will have a bad experience.
Written, Itemized Estimates on New Systems
When people hire an HVAC contractor for installation, they wants the job done efficiently and on time. Yet there are other things that make some contractors stand out above the rest. They should provide a written and itemized estimate, so that there are no surprises at the end of the job.
If you are hiring them for repair or maintenance, make sure they are willing to go over the cost of what needs to be done and not go any further until you approve this work.
There are shady HVAC companies out there that quote one price and when they forgot something necessary, they will tack that onto the bill upon completion.
There are also instances that something completely unforeseen can arise. If this happens, a quality contractor, like Air McCall will discuss that with you before they proceed, rather than surprising you when you receive your bill.
Top Notch and Trusted Brands
Always look for HVAC contractors that work with the best brands available. All technicians should be trained to work on each specific brand, as well. You can do your research and go to the manufacturers website to verify if your contractor's manufacturer certification claim is true.
At Air McCall, we follow the instructions to the letter for each of the brands we install and service. And, each one our techs are familiar with all the newest systems, and  know how to work on older systems, as well.
Air McCall: Jacksonville's Finest HVAC Installation, Maintenance & Repair Company
We consider ourselves to the most qualified HVAC contractor in the area. We strive to deliver satisfaction to each and every customer that we get the chance to work with.
Our technicians are Nate-Certified and our company has hundreds and hundreds of good reviews and many repeat customers! We have been servicing Jacksonville, FL and the surrounding areas for over 25 years. Our company stands for Honesty, Integrity, Fair Pricing and Expert Craftsmanship. We deliver the expected results! Call us for your HVAC needs!
Categories: